Demolition Hammers and Breakers
Find out how our breakers are designed for higher productivity, reduced vibration and dust exposure in heavy-duty concrete demolition and chiselling
Demolition hammers and breakers
Hilti demolition hammers and concrete breakers are designed to balance maximum performance with exceptional comfort and control.
No matter the application, you can find a durable, dependable Hilti demolition hammer or concrete breaker with innovative features based on years of research and field-testing.
Browse the tools below, or contact a Customer Service Representative for expert guidance in choosing the best product for your needs.

HOW TO WORK VIRTUALLY DUST-FREE WITH HILTI BREAKERS
The Hilti Dust Removal System (DRS) helps remove hazardous fine dust
DAMAGING DUST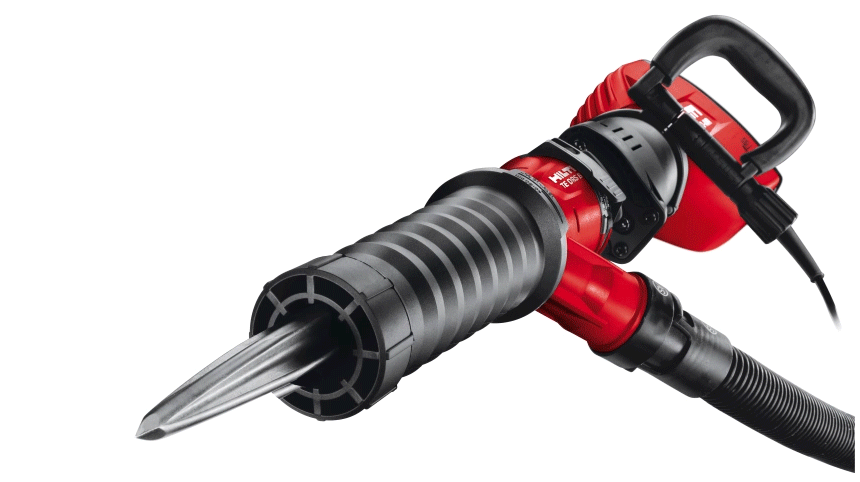 When it comes to dust, size matters. While larger particles are filtered out by the mouth and nose, very fine dust can get into the airway and even to the farthest reaches of the lungs.
The silica dust released when breaking concrete is particularly hazardous – excessive exposure can cause an incurable lung disease called silicosis.
The good news is, we have a solution. You can help keep your workers safe and ensure compliance with dust-related regulations by using the TE DRS-B dust removal system with our breakers. Minimising dust on the job site helps to increase productivity and reduces wear and tear on tools and consumables.

Complete system
Our Dust Removal Systems (DRS) are highly effective, removing up to 98% of hazardous inhalable dust at source, so are perfect for indoor use. The result: a virtually dust-free job site.
All the system's components are perfectly matched to maximize the amount of dust removed. The vacuum removal system is attached at the chuck and can be easily matched to the type of chisel being used.
Committed to Health & Safety
We know you take health and safety seriously – it's a commitment we share. That's why we have spent many years researching dust removal and developing innovative solutions.
Dust regulations at national and supranational level are designed to protect employees from excessive exposure to harmful levels of dust concentration. Hilti Dust Removal Systems (DRS) help to ensure you comply with regulation. More importantly, it helps keep you and your workers safe.